Workshop Islam, Deportation and Return
Islam, Deportation and Return:
Removal Experiences of Muslim Irregularised Migrants
Workshop, LMU Munich, October 14 - 15, 2022
Keynote speaker: Alice Elliot, Goldsmiths University of London
Discussant: Sabine Strasser, University of Bern
Muslim conceptions of what being human means are often ignored in migration research. These conceptions, however, play an affective and central role in the experiences of many religiously affiliated migrants from different Muslim communities. This is particularly true for irregularised migrants struggling with mobility or facing removal, i.e. deportation or "voluntary" repatriation. Their view of cross-border mobility and life more generally, including notions of freedom of mobility and human rights, are often intimately entangled with religious ideas, experiences, interpretations, narratives, and feelings. Which are in turn profoundly bound up with their migration and removal experiences. To bracket out religion in migration research as is often done in secular legal and human rights frameworks may marginalise people's religious experiences and ontological notions. For ethnographers working with Muslim migrants, it is all the more difficult to ignore this aspect of the lives of their interlocutors. Often, religion is the lens through which their research partners make sense of their migratory lives. However, there is no single understanding of Islam, and different collective beliefs, conceptions or subjective interpretations inform the experiences and narratives of Muslim migrants: From religious ideas of taqdeer or muqaddar (destiny) in one Muslim community to istikhaara (seeking Allah's counsel) in another, various Islamic practices, ideas, and subjectivities play an essential role in the lives of many Muslim migrants.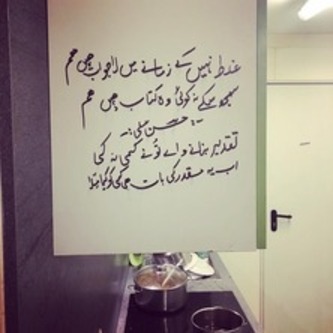 [Verses on taqdeer (fate) in a Munich refugee accommodation]
Preliminary program (172 KB)
Participation in the workshop is free but advance registration is required. Please register by sending an email to:
removal_experiences@ethnologie.lmu.de
Poster of the workshop for download (326 KB)
The workshop is part of the research project Return to Pakistan / Zurück nach Pakistan (German), funded by the Deutsche Forschungsgemeinschaft (SO 435/14-1).
Workshop organisers:
Usman Mahar (usman.mahar(at)lmu.de)
Martin Sökefeld (martin.soekefeld(at)lmu.de).
Downloads