Vortrag: The Representation of City and Landscape in Caribbean Literature and Art
Am Montag, den 2. Juni 2014 spricht Ariel Camejo Vento, Assistant Professor am Department of Social and Theoretical Studies on Culture, University of Havana über "Scapes of Identity in the Caribbean"
02.06.2014 um 18:00 Uhr
Ariel Camejo Vento, Assistant Professor, Department of Social and Theoretical Studies on Culture, Faculty of Arts and Literature, University of Havana: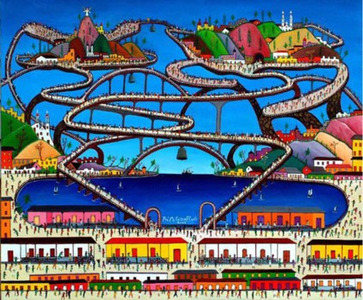 Scapes of Identity: The Representation of City and Landscape in Caribbean Literature and Art.
In his presentation Prof. Ariel Camejo Vento explores how the historical representation of landscapes and cityscapes in the Caribbean often became paradigms of identity and were used as images of the nation, as they are perceived inside and outside the islands. Since the first depictions of the Caribbean territory up to recent ones by contemporary artists, both citizens and cities have exerted a strong influence on the image production of national identity: the mulatto body, the outsider (maroons, jíbaros), the street life, the utopic, the revolutionary island, and many more. Within this wide context and focusing on some exemplary artworks and texts, Prof. Ariel Camejo will discuss how these images produced by Caribbean artists and writers, show a desire to enhance national and identity currents.
General Presentation:
Prof. Ariel Camejo Vento, born 1981 in Cuba, is an Assistant Professor of Literary Theory and Criticism at the Department of Social and Theoretical Studies on Culture at the University of Havana and Dean of the Faculty of Arts and Literature. He is Joint Researcher at the Centre for Caribbean Studies of Casa de las Américas and member of the Research group of Intermediation and Social Memory at the University of Havana.
He is Editor of Dédalo, review of cuban young writers and artists as well as Collaborator of the Review of the Casa de las Americas "Anales del Caribe". He is a PhD candidate doing research on the literary construction of Havana City in cuban novels during the last two decades, and its multiple connections with cuban mainstream literature and several phenomena and discourses implied in the construction of cuban identities. He also developed research on Caribbean thought and literature in the XXth and XXIth centuries.
Main works:
Prof. Ariel Camejo Vento published several articles in cuban and foreign reviews. As co-author published the anthology Saint-John Perse, por los caminos de la tierra (Casa de las Américas-Confluences Caraïbes, 2008). He has published articles about Caribbean authors like Saint-John Perse, Aimé Césaire, Jacques Roumain, Nicolás Guillén, Edouard Glissant, Juan Bosch, etc. He was invited to the I Congress of Caribbean Writers, in Guadalupe (2008) and to the VIIth Caribbean Reasonings Conference "Freedom and Power in the Caribbean: the Work of Gordon K. Lewis", hosted by the University of the West Indies at Mona, Kingston, Jamaica (2010).
Wann? Montag, 2. Juni 2014, 18:00 - 20:00 Uhr
Wo? Institut für Ethnologie, Oettingenstraße 67, 80538 München
Raum 057 Lageplan
Plakat als Download