Coping with Change in Gilgit-Baltistan
Gilgit-Baltistan, Pakistan's high mountain area, is a unique environment for human society. It contains many of the world's highest peaks and longest glaciers and is in the first place a uniquely difficult, fragile and precarious environment. Society in Gilgit-Baltistan is characterized by pronounced dynamics of change which affect many areas of life. Most aspects of change are particularly visible in the area's urban center Gilgit but they also affect rural society in remote valleys.
From 2011 to 2013 the German Academic Exchange Service (DAAD) funds a German-Pakistani research cooperation which organises a number of workshops and summer schools which focus on processes of change in Gilgit-Baltistan. Three areas of change are of particular interest: gender relations, new media and means of communication, and natural disasters.
In this framework the Institute of Social and Cultural Anthropology, LMU Munich, cooperates with the National Institute of Pakistan Studies, Quaid-I-Azam University, Islamabad (Prof. Dr. Azam Chaudhary) and with Karakorum International University, the university of Gilgit-Baltistan.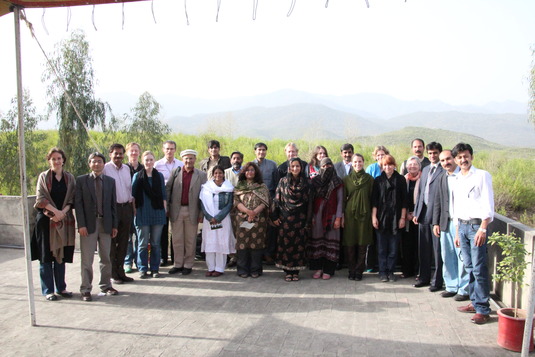 After a coordination workshop which took place in Islamabad in December 2011, the Anthropology of Disasters Research School was organised in March 2012. M.Phil. and Ph.D. students of anthropology and other social sciences from various Pakistani and German universities who are engaged in research on natural disasters presented and discussed their projects in a week-long workshopat the National Institute of Pakistan Studies in Islamabad. Among the faculty of the research school were Prof. Dr. Ute Luig (Free University Berlin), Prof. Dr. Azam Chaudhary (QAU), Dr. Emma Varley (Lahore University of Management Sciences), Roland Hansen (Malteser International, an NGO engaged in disaster management) and Prof. Dr. Martin Sökefeld (LMU Munich). Some contributions to the research school will be published in the journal Scrutiny which is edited by the National Institute of Pakistan Studies.
In September-October 2012 a two weeks film workshop on Visual Anthropology followed. Mona Hafez and Jacqueline Wilk (LMU Munich) introduced a group of 12 teachers and students from KIU and QAU to theory and practice of ethnographic filmmaking. The workshop focused the making of short documentaries within the thematic frame of the project: 'Change in Gilgit-Baltistan'. Guest-lecturers Nisar Ahmed (filmmaker, Interactive Resource Center, maati.tv Lahore) and Noor Mohammad (journalist, pamirtimes.net) talked about activist filmmaking, engaged journalism and the role of new media in coping with change in Giglit-Baltistan.
Inspired by these talks and the theoretical input, the participants went out to the field for research. Thereafter they were introduced into camera techniques and the capturing of sound. In groups of three they realized their films on the topics of gender, new media, music and sectarian violence, which were chosen by themselves and discussed by all beforehand. After two final days of editing four short films which focus on students and migrants from Gilgit-Baltistan in Islamabad resulted from this workshop at Quaid-i-Azam University. Three of the four films can be viewed online on youtube:
"Maire awaz suno - listen to my voice" (12 min.)
"Ignite spark - inspire change" (11 min.)
"Bonded brothers of the wounded land" (16 min.) Part 1; Part 2



In 2013 a summer school on anthropological field methods will bring together students of anthropology from QAU. KIU and LMU. This summer school will take place at KIU in Gilgit and students will practice field workshops in their projects across Gilgit-Baltistan