Crossroads Asia Conference: Spaces of Conflict in Everyday Life
The Dept. of Social and Cultural Anthropology is part of Crossroads Asia; a research network that focuses on the area which spans from Northern India to Central Asia and from Eastern Iran to Western China. Our main interest is to crosscut the conventional boundaries of area studies and to think across established demarcations of regions like South, West, or Central Asia. The research also focuses on societal processes that crosscut social boundaries. Border areas and processes of mobilization are among the network's research topics in which such crosscutting processes come to the fore.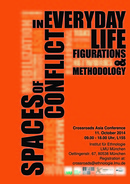 Within the theoretical framework of Crossroads Asia (see Concept Paper Conflict Research on Crossroads Asia), we regard conflicts as a normal and universal aspect of society. Nevertheless, the areas, which the Crossroads-Project focuses on, are characterized by a particularly high incidence of often violent conflicts. Bearing in mind questions of scale, conflicts also combine global, national, regional and local levels. Thus, an international cross-border conflict may have significant impact on the daily life in villages or urban neighborhoods. Even though our focus is not on "the state", state actors have to be taken into consideration as they are frequently involved in the everyday of conflicts, and "the state" may be an important aspect of the environment in which conflicts take place.
In this sense, we understand conflicts as 'figurations' that branch out from particular issues and, via networks, coalitions and oppositions, meander through different levels, sites and affairs. A conflict may start over a religious issue, yet most probably will not remain purely religious but shift towards political and economic spheres. And conversely, different conflicts may intersect at particular sites. Conflicts are not only divisive but also conjoin people in coalitions and forge crosscutting ties.
The Dept. of Social and Cultural Anthropology organizes a conference that aims at focusing not so much on the contents of conflicts – what they are about – but rather on the how of conflicts: the ways and modes of action and mobilization, the imaginaries and narratives, the structures and linkages created through conflicts. As research itself becomes often part of conflicts, conflicts may therefore have a direct impact on research. We are thus also interested in methodological issues and the politics of research on conflicts, and in conflict situations.
The conference takes place on October 11, 2014. Participation is free of charge but advance registration is required as space is limited. In order to register please write to: crossroads[at]ethnologie.lmu.de

For the programme and abstracts see downloads.
The conference is generously funded by the Federal Ministry for Education and Research
Downloads